A 16th-Century epic poem based on the life of popular Hindu god Ram is at the centre of a huge political row in India.
Ramcharitmanas is counted by many scholars to be among the world's greatest literary creations. Celebrated author Pavan Varma calls it "a deeply philosophical work" which "is akin to the Bible for many Hindus".
Composed by Tulsidas, the poem is a retelling of Ramayana, the Sanskrit epic written by Hindu sage Valmiki 2,500 years ago. It's widely believed that Tulsidas's version, which is written in Awadhi – a dialect very similar to Hindi – is what made Ram's story accessible to the masses and why it became so popular.
The story of the crown prince of Ayodhya and his victory over the demon king Ravana is performed every year during the Dussehra festival across India. He is a god who's revered by millions of Hindus for his sense of justice and fair play.
But in the past few weeks, politicians on opposing sides have been arguing over whether the text is derogatory towards women as well as Dalits, who are at the bottom of India's deeply discriminatory caste system.
This is not the first time Tulsidas's epic, written more than 600 years ago, has been criticised, but what sets it apart this time is the scale of protests by both its supporters and critics. General elections in India are due in a year and politicians from both sides accuse each other of using the controversy over the book to polarise voters along caste lines.
Since January, protesters have burned pages allegedly containing excerpts from the book – and counter-protests have been held, demanding critics of the work be arrested.
At least five people, accused of desecrating the sacred text, have been arrested and, at the weekend, police invoked the National Security Act (NSA), a draconian law that makes bail nearly impossible, against two of the arrested men.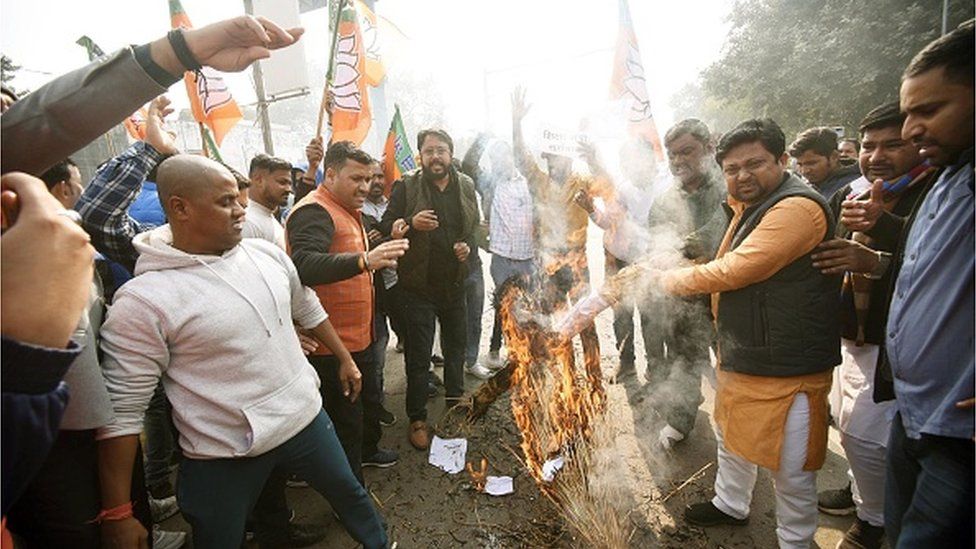 Trouble started in January when a minister in the northern state of Bihar said the book was "spreading hatred in society". At a gathering of university students, Education Minister Chandrashekhar (who uses only one name) recited a few lines from Ramcharitmanas to prove his point.
"It says that if people from lower castes receive education, they become poisonous, like a snake becomes after drinking milk," he said.
A few days later, Swami Prasad Maurya, a prominent leader of a socially-disadvantaged community known as Other Backward Classes (OBC) and a member of the regional Samajwadi Party in Uttar Pradesh state, expressed similar sentiments.
Insisting that some verses of Ramcharitmanas were "offensive", he demanded that they be removed from the book.
"Why hurl abuse in the name of religion? I respect all religions. But if in the name of religion, a community or caste is humiliated then it is objectionable," The Indian Express quoted him as saying.
On Wednesday, he tweeted a letter he's written to the prime minister and the president of India, asking them to "remove the objectionable comments, which are abusive and insulting towards women, tribals, Dalits and backwards".
The comments by Mr Chandrasekhar, whose Rashtriya Janata Dal party governs Bihar, and Mr Maurya set off a political firestorm with Hindu nationalist groups, including members from India's governing Bharatiya Janata Party (BJP) criticising them.
BJP politician Nandkishore Gurjar said he had written to the Supreme Court demanding the death penalty for Mr Maurya. In the temple town of Ayodhya a prominent Hindu seer demanded the Bihar minister apologise and be sacked.
In Uttar Pradesh, protesters burnt effigies of Mr Maurya and lodged a police complaint, demanding his arrest.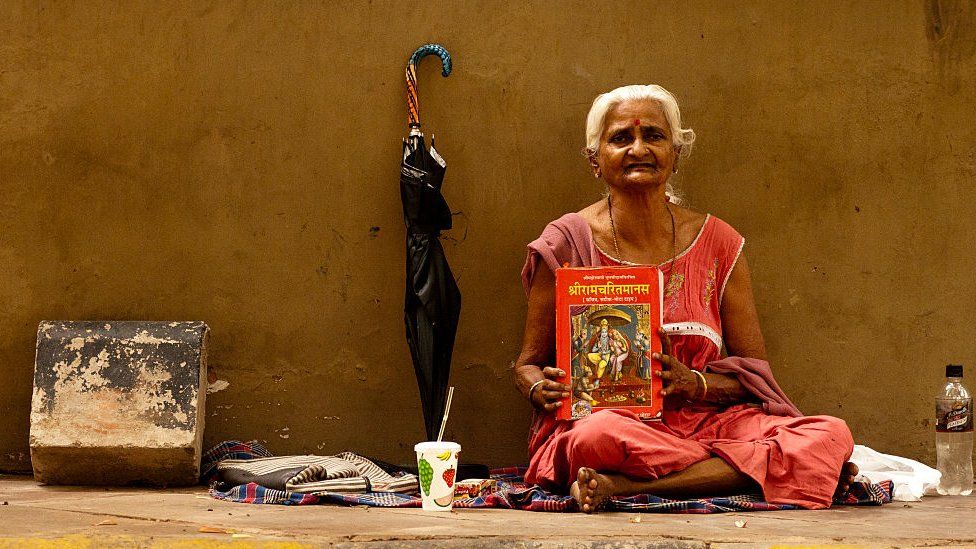 Soon, groups supporting Mr Maurya also joined in. At a protest by members of the Akhil Bharatiya OBC Mahasabha in his support in the city of Lucknow, some pages containing excerpts from Ramcharitmanas were burned – the five men who were arrested had participated in this protest.
The controversy has also renewed a debate around Ramcharitmanas and whether the criticism has any merit in a country where the constitution sets out that all Indians are equal.
Feminists have decried it over the years, especially lines that say that "a drum, an uneducated man, a Dalit and a woman, all need to be beaten or reprimanded".
Prof Hemlata Mahishwar of Delhi's Jamia University told BBC Hindi that "it's not just one or two lines but there are several verses" in Ramcharitmanas that are derogatory to women and Dalits.
"There's one couplet that says that a Brahmin is to be worshipped even if he's full of bad qualities. Whereas a Dalit, even if he's a Vedic scholar, cannot be respected. So how can we accept a book that's so biased?"
Some experts, however, say that Tulsidas was not a reformer and did have his biases, but the controversial lines are spoken by his characters and can't be taken to be a reflection of the author's opinion.
Akhilesh Shandilya, an expert on Ramcharitmanas, told BBC Hindi that the lines appear derogatory to Dalits and anti-women only when taken out of context and read in isolation.
But critics say that Ramcharitmanas has to be approached in the present-day context and deserves scrutiny and discussion, especially as it is a book that has such a hold on the imagination of Indians.